Looking for an engagement ring like Kim Kardashian's? Although her marriage to Kris Humphries did not last, her engagement ring was a classic. And the good news with classic styles? They are easy to replicate.
Now, her engagement ring had over 20 carats of diamonds and cost over 2 million dollars. But a sensible gal can find an emerald cut diamond to put in this classic step trapezoid setting from Blue Nile to recreate the look for (much, much) less. Check out this one which was recently purchased on Blue Nile – possibly by a Kardashian fan?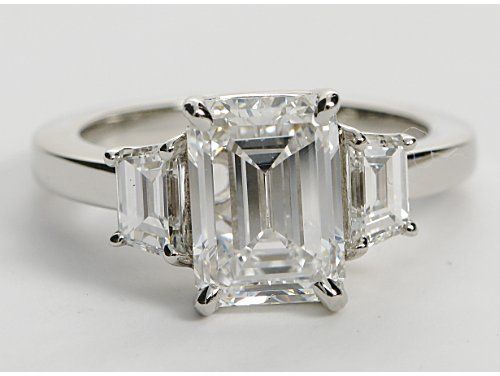 Step Cut Trapezoid Diamond Engagement Ring in Platinum from Blue Nile
If you love the Step Cut Trapezoid setting, I highly recommend you set it with either an emerald cut diamond or an asscher. These two cuts give the ring a modern feel and the planes on your center diamond and on the trapezoids line up to make it look like you are wearing a ring made of sparkly ice.

This buyer chose a 1.95 ct diamond with VVS1 clarity and E color, ensuring a colorless, clear ice-like look. This ring cost $30,872…far less than that 2 million price tag!



Customize your own Step Trapezoid Setting on Blue Nile today.
Click here to see more rings recently created by Blue Nile customers.
Want to get a great fake of this ring? Check out Emitations.com's celebrity look alike ring below:


Ready to buy? Follow me on Facebook and never miss an engagement ring sale or deal! Click here to follow me now.