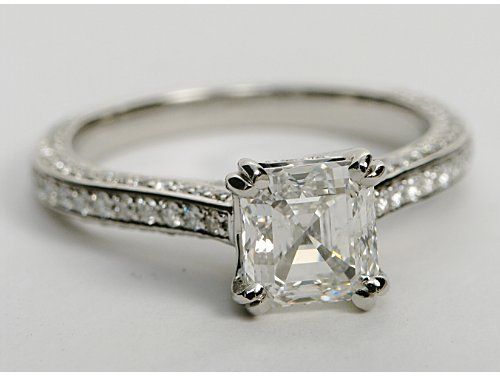 Show off your Asscher cut diamond with a double split claw setting like this one from Blue Nile
Love asscher cut diamonds? Their unique look has inspired many brides-to-be to settle for no less than this intricately cut stone. But what style setting best accentuates the unique cut corners and brilliant facets of an asscher diamond?
Jewelers agree that a split prong or claw prong setting is your best bet. Instead of obscuring the clipped corners of your asscher cut diamond, a split claw prong design accentuates the corners with slender prongs which part to reveal your stones unique cut.
The Heirloom Micropavee Split Claw Prong Setting from Blue Nile pictured above is the perfect choice for a bride who wants some sparkle and art deco appeal in her asscher engagement ring setting. Seen customized above with a 1 ct asscher diamond, this setting showcases your asscher cut diamond to its full advantage. And stays budget friendly to boot.
Check out the stats for this ring below, and then customize your own engagement ring with this setting on Blue Nile.