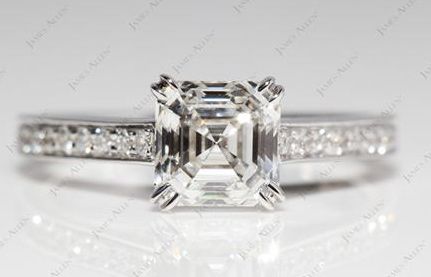 I just can not get enough of split claw prongs, so here is another jewel to add to my collection.
I love James Allen's version of the split claw prongs. They are delicate and slightly talon like. Very similar to the Leon Mege and Brian Gavin split claw rings I have seen. But at a better price and with quicker delivery than getting these designers to custom make your ring.
Like I said in my last post here, an Asscher diamond just screams for a split claw prong setting to best showcase its unique corners. Rings with thicker single prongs obscure those gorgeous facets making it look the same as a princess or radiant cut to the casual glance. The delicate split prongs complement other diamond shapes as well, from round to square cuts.
Luckily, you can pick your perfect Asscher diamond on JamesAllen.com and then set it in one of these delicate, unique split claw prong settings.
Note, you must contact James Allen via the chat interface on their site to customize these settings with an asscher cut diamond. But it will be well worth it!


18k Gold Split Claw Prong Setting by James Allen
Solid Gold Split Claw Prong Setting by James Allen in Yellow Gold
James Allen Split Claw prong Surprise Diamond Setting