I love to look at other people's rings, so imagine my disappointment when I saw that James Allen has three new, unique and gorgeous halo settings on their site and NO recently purchased pics for any of them!
I won't let that stop me from sharing these rings with you. And maybe if you pick one of them you'll send me some pics and some stats….right?

James Allen 18K White Goldand rose gold engagement ring with pave halo and double claw prongs, $3,675
This first setting combines white and rose gold in a classic halo setting with double claw prongs. If you read my last post, you know that James Allen custom fits each halo setting to your selected stone. This means that whether you choose an 0.5 carat or 1.5 ct diamond, your rings will be perfectly balanced with no unsightly gaps between the stone and the setting that you sometimes see in cheaply made mall-store halo settings.
Don't like round diamonds? No problem, you can customize this setting with any shape diamond from an oval to a marquise. Definitely proof that James Allen does halos right. I don't think I would go anyplace else for one with all that I know now.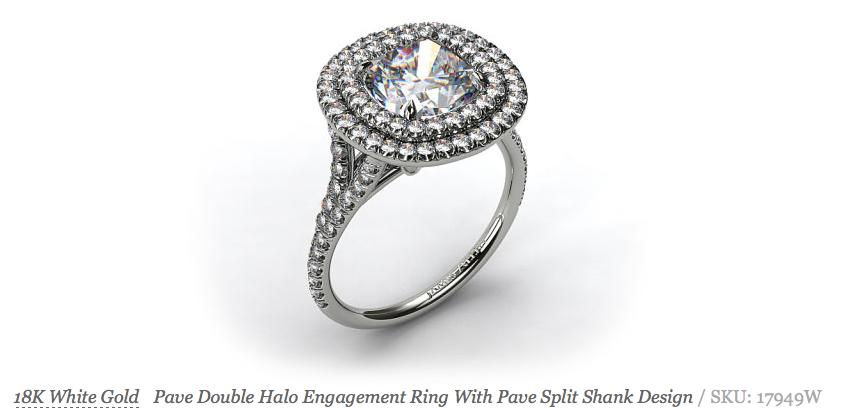 James Allen 18K White Gold
pave double halo engagement ring with pave split shank design, $3,225
This gorgeous double halo engagement ring from James Allen gives the Tiffany Soleste engagement ring a run for its money. With a similar double halo split shank design, this stunning sparkler can be customized with a diamond of any shape from round, asscher, cushion to emerald. And with the size of this halo, you don't really need a huge stone to catch some serious attention. Even a half carat diamond will look large in this setting. See more details on James Allen.com.
James Allen 18K White Gold pave halo engagement ring with a pave split band design, $3,075
This unconventional halo setting from James Allen reminds me of Jennifer Anniston's new engagement ring. The pave swirls that surround the center stone and split shank give it a stylish look while still remaining true to its classic origins. Definitely a ring for someone with a sense of style and not afraid to put a new spin on a classic look. See more details at JamesAllen.com.
Ready to customize one of these fabulous new engagement ring styles with the diamond of your dreams? Learn more about James Allen here.
And if you do choose one of these rings, send me pics and price! I want some matchmaking credits for this one!