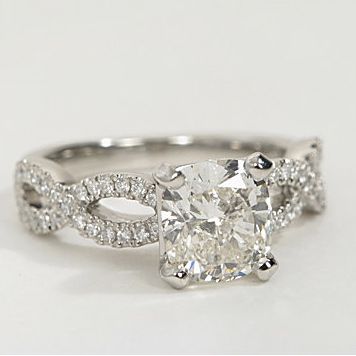 Get an almost 2ct cushion cut engagement ring in a designer style setting for under $10,000 on Blue Nile
There are many ways to spend $10,000 on an engagement ring. Choose a
pricey designer setting and a small, but brilliant diamond, or max out
your budget on a 2 carat or larger stone in a simple gold setting. Or
almost permutation in between. The options are endless when you have a
healthy budget like this.
Depending on your taste, there are lots of great
options on both Blue Nile and Amazon.com.
When it comes to spending a budget this large, I only have one rule –
Don't waste it at a mall retail jewelry outlet where you will get far
less for your money!
Check out the great Infinity Twist setting above that one lucky gal scored on Blue Nile for only $9,972!
Want the stone to take center stage? Try going for a 2 carat asscher stone set in your choice of white, yellow or rose gold. I love how rose gold looks with warmer stones in the K-range!
Get more ideas about how to spend your $10,000 engagement ring budget here, or view my $10,000 Engagement Ring board on Pinterest.