Find Your Perfect Halo Style Engagement Rings Setting
The biggest trend in engagement rings today is the halo setting. This classic design is feminine and fashion-forward without being trendy. It also gives your center stone more impact – surrounding it with a circle of pave or finely set stones makes it appear even larger, which is always a plus.
No wonder this style is a favorite of celebrities. From Natalie Portman to Mariah Carey, halo-style engagement rings have been popping up everywhere. If you have fallen in love with a halo engagement ring setting, check out the styles on this page to find designer engagement ring look-alikes at fabulous prices from the top-rated internet diamond retailers, James Allen and Blue Nile.
Blue Nile's Floating Halo Setting
This floating halo setting is one of Blue Nile's best sellers. Read more about it below or click here to customize it now.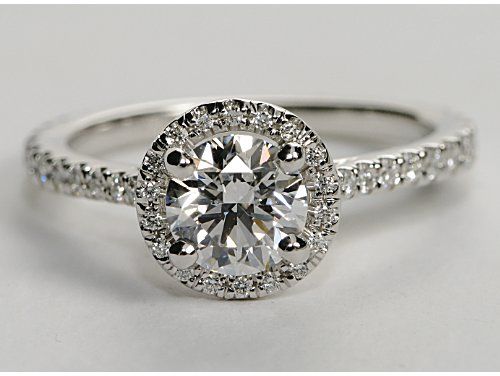 A Floating Halo in Gold or Platinum
You Can Customize this setting from Blue Nile
The floating halo setting from Blue Nile works especially well with small stones – the halo adds to their perceived size – and looks fantastic with larger stones, creating a ring that makes a lasting impression.
No wonder it is one of the top-selling settings on Blue Nile and scores high marks in their customer reviews section. One purchaser calls it a "Simple Yet Elegant Halo Engagement Ring" in their 5-star review. Customers love its delicate band and sparkly pave setting. Click the image below to see it up close.
Blue Nile floating halo setting customized with a 1.01 ct. Round G-Color, VS2-Clarity, Ideal-Cut diamond. See more custom halos at BlueNile.com
See other customer's customized floating halo settings on the "recently purchased" page, and then go ahead and customize your own!
A Halo Setting for a Cushion Cut Stone
Platinum Pave Halo and Shank Diamond Engagement Ring with Cushion Center
Looking for a cushion cut halo setting like the one Jessica Alba wears?
Cushion cut halo settings are extremely popular with the celebrity set, but the good news is that there is one at every price point. If your engagement ring budget is around $2,000-$3,000, head over to Amazon.com to see some of the best values, like the ring below.
This Top Rated 1.07 Carat Cushion Cut Halo Style Diamond Engagement Ring ( H-I Color , VS2 Clarity ) is an Amazon bestseller by Chandni Jewels. Click to read customer feedback.
Chandni Jewels gets great reviews from satisfied customers who have purchased from them on Amazon.com. Head over to Amazon to take a look at their large collection of cushion cut halo engagement rings at various price points.
A Modern "X" Halo Setting
Get exquisite A-list style with this X Halo setting
Jamie Chung's engagement ring has been making waves with celebrity watchers. Her Criss-cross style halo has two pave bands which come together at the halo instead of separating like a traditional split-shank. This gives it a modern "X" look which is delicate and sparkly.
While her ring has a 3-4 carat center stone, the rest of us can find the same look with this amazing hand-made engagement ring by jeweler-to-the-stars Mark Broumand.
This Mark Broumand 1.96ct Round Brilliant Cut Diamond Engagement Ring sells for $11,380 on Amazon.
Mark's engagement ring collection is now available on Amazon, so you don't have to be in LA to get the hottest celebrity engagement rings. All you need is an internet connection…and maybe a personal loan.
An Intricate Twisted Shank Halo Setting
Monique L'Hullier Twisted Shank halo setting from Blue Nile
Looking for a delicate halo engagement ring setting with a twisted shank? This style has been gaining in popularity over the more common split-shank look.
This gorgeous solitaire halo mount from Blue Nile's Monique L'Hullier collection romantically evokes the idea of "infinity" with its twisted band design, and diamond pave which extends down the shanks for a sparkly look at any angle.
Go to BlueNile.com to see how one fiancé customized this ring for $5,980
Monique L'Hullier Hexagon Engagement Ring Setting
Unique, Vintage Style
If you are looking for something truly unique, with vintage appeal, check out this hexagon halo setting from Monique L'Hulier's collection for Blue Nile. This vintage style split shank platinum setting has Edwardian appeal and is set with a round center diamond. A combination of pave stones and baguettes comprise the halo, and a secret "surprise" pink sapphire is set in the crown.
Love the Tacori Hexagon setting? This ring gives you the same antique Edwardian detailing for a fraction of the price.

Monique L'Hullier Vintage Hexagon Setting available exclusively at Blue Nile
View Monique L'Hullier rings recently customized by Blue Nile customers here.
Pear Shaped Diamond Halo Engagement Ring
Find Halo Style Settings for Your Pear Shaped Diamond
Love the classic elegance of Odette Yustman's pear-shaped halo engagement ring?
Affordable halo settings for pear-shaped diamonds are hard to come by. Find one on Blue Nile for $1,570 and customize it with a pear-shaped diamond from their extensive database. This ring comes with the Blue Nile lifetime guarantee as well as Free Shipping, and their 60-day return policy.
14k White Gold Pave Halo and Shank Diamond Engagement Ring with Pear Center from Blue Nile. Customize it here.
A Two Tone Double Halo with Rose Gold
From the Blue Nile Monique L'Hullier Collection
This stunning platinum and rose gold setting features a split shank and a dazzling array of pave set stones. A part of the brand new engagement ring collection by famed wedding dress designer Monique L'Hullier for Blue Nile. The rose gold halo adds a rich, warm touch to the ring. This sophisticated setting has a romantic, antique feel, and features a secret surprise – a pink sapphire on the side of the setting.
Be one of the first to customize this unique ring on Bluenile.com

Monique Lhuillier Double Halo Engagement Ring in Platinum
Platinum Pave Halo & Shoulders Engagement Ring with Ascher Center
A Bezel Set Halo Style Setting with Art Deco Appeal
Looking for a halo style setting for an ascher cut diamond with sleek, art deco appeal? This refined halo setting features round brilliant cut pave stones for maximum sparkle. Available in white gold or platinum, the setting starts at $1,570 and can be customized with a diamond from Blue Nile's extensive collection.
Customize this ring online at BlueNile.com starting at $1,570