Pear shaped engagement rings in halo settings seem to be making quite a comeback. Could it be all of the attention garnered by actress Katherine Heigl's pear-shaped sparkler?
This traditional diamond shape feels fresh again set in micro-pavee halo settings. Especially when paired with a sleek, matching pavee wedding band. The hard part is finding a jeweler with the skill to create a pear-shaped halo. Blue Nile doesn't offer them, but James Allen does.
Check out this Pear shaped halo setting recently created on JamesAllen.com: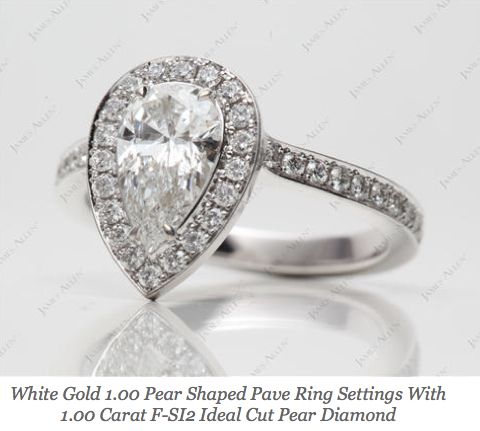 What I love about these pear halo rings from James Allen is how flush the halo is around the pear shaped diamond. No gaps. Take a look at some more examples on JamesAllen.com. That is the sign of a truly custom ring, created exactly for your selected diamond.
James Allen does not show the finished cost for their created rings, but searching their inventory for a similar pear shaped diamond I found this 1.01 Carat F-SI2 Pear Cut Diamond for $3,270. Combined with the setting in 14k gold for $2,025 we can assume the buyer paid around $5,295. A fantastic price for a Pear shaped halo engagement ring that you can not get anywhere else!
This setting is also available in Yellow Gold. Click here to see it.
Ready to buy? Follow me on Facebook and never miss an engagement ring sale or deal! Click here to follow me now.